Why Private Registration?
Private Registration Masks Personal Information
Benefits of Private Registration
Reduces email spam
Guards against identity theft
Deters unsolicited telemarketing and direct mail
Pricing & Availability
Private registration is available for $9.95 per year when added to a domain purchase or transfer. Also, you can add it to any existing domain registration you have with No-IP.
Adding Private Registration is Easy
You can add private registration to an existing domain, or to a new purchase. For a new purchase simply search for the domain from the top of the site and select private registration when prompted. To add it to a existing domain, login, then visit the domain registration manager.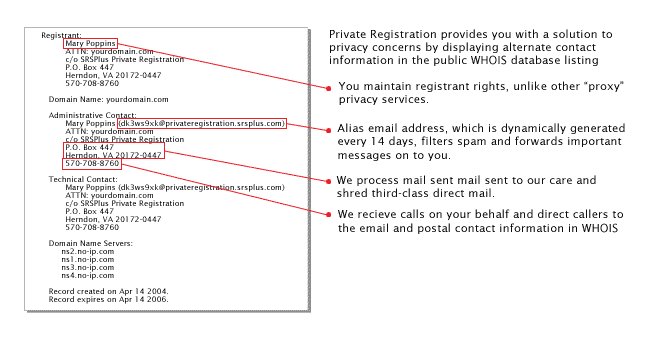 "I have been using No-IP for many years, I've yet to have a single problem with it. Works Awesome!"
• Mikael •
"No-IP is awesome! I can access my entire computer from anywhere in the world at any time, hassle free!"
• Jesse •
"Absolutely the best! I've been using it every day and never had any problems!"
• Nico •
"When you just want something to work, look no further. No-IP is all you need!"
• Johan •
Managed & Dynamic DNS
No-IP has all of your Managed DNS needs covered with No-IP Plus, Enhanced, Squared and Free.
View All
Managed Mail
Want email on your own domain? Get the perfect you@yourdomain.com email now.
View All
Add Google Apps to Your Domain
Use your domain backed by our Plus DNS network with Google Apps.
Learn More